Last week I was "Never Skip Monday" and this week I'm like, "Skipping Monday is A-Okay" 😀
Maybe it's not a-okay but I'm sore and exhausted for some reason so I'm spending the night with my heating pad.  My plan of attack is to leave work early tomorrow since I didn't get a lunch today (basically ate in the car on the way to the other location where I work) so that I can go to the gym and shower before trivia.  I feel kind of guilty for skipping but I plan to go Tuesday, Thursday, and Friday this week plus I'll do some walking in place tonight.
I put on a pot of water to boil to make some pasta tonight for day 1 of my meal plan.  Today's lunch was grapes, string cheese, and a wrap with turkey and avocado hummus.  That will probably be my #1 purchase from Costco going forward, Hope Avocado hummus.  It's so delicious!!!
My go-to lunch items are wraps with lunch meat, veggies, fruits, and string cheese.  I'm trying this week to prep everything the night before so on mornings like today, where I decide to sleep until I only have 30 minutes to get ready, I can just grab and go.  I'm also going to use some of my leftovers from dinners this week.
Tonight I'm going to make some extra pasta to make a cold pasta salad to take with me tomorrow and Wednesday I'm going to make extra rice for Thursday's dinner.  I want to try to do this more often especially since I'm trying to go to the gym 4 nights a week.  This is prepping made easy.  If I'm already cooking pasta or rice it's not a big deal to make a bit more so I have extra on hand for other meals.  Simple and easy.
M:  Pasta with chicken sausage and mushrooms
T:  Out for trivia
W:  Rice with chicken, broccoli, and mushrooms
T:  Tacos-Set aside rice and chicken from Wed. to season differently for tacos 🙂
F:  Homemade pizza-I'm going to research some creative options.
The new season of Orange is the New Black premiers this weekend and I can't even lie I will be binging this show from the time I get home on Friday until probably Saturday evening when I will slip into a depression when I realize it's over until next year.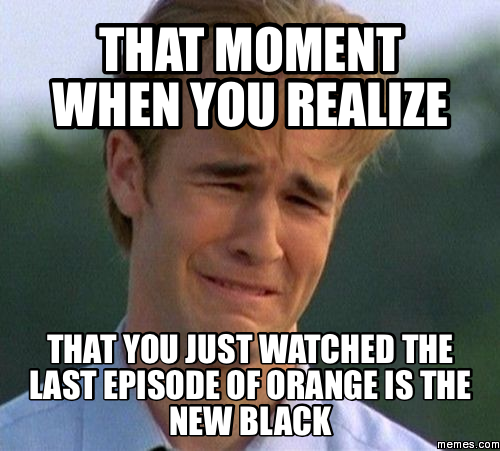 I figured that kind of binge deserves pizza and salad.
On a more serious note……..
Hope everyone made it through Monday.  It was a rough day and I'm sure I'm not the only one who kept finding their thoughts drifting to the friends and families of the victims of the Orlando shooting.  It breaks my heart to be reminded of how hate still exists in the world but keeping to the more positive stories in the news I'm also reminded of how people come together following a tragedy.  This quote from Mr. Rogers has become one of my favorites and something I try to remind myself of following scary news.